The rise of the Accounting Technologist: Practice Ignition on increasing tech adoption
In the past few months, we've interviewed a range of accounting firms (RSM, Illumin8, POP Business and Ecommerce Accountants) and even a coach for accounting firm owners (Future Firm), asking about the rise of the Accounting Technologist. The role defines a new wave of accountants that have a strong understanding of how accounting and technology intersect.
Today, we're mixing it up and bringing an exclusive interview with Rebecca Mihalic, Head of Accounting (APAC) at Practice Ignition, proposal and relationship management software for accounting practices.
On top of having a foot in accounting technology, Rebecca has been an accountant for 20 years. She's the Director at businessDEPOT, an award-winning accounting firm known for innovation and tech advisory. Her real-world experience means she sees first-hand how accounting technology is transforming the industry.
How did you end up as Head of Accounting at Practice Ignition?
"I started out in corporate then moved and spent over a decade in public practice in a more traditional accounting firm before I co-founded Aptus Accounting & Advisory in 2015. It was tech-based from day one. We set it up with Xero as the backbone of our business. We used their general ledgers, workflow manager and we did not have a server, everything was on the cloud," said Rebecca.
"In 2018, we won Innovator of the Year at the 2018 Australian Accounting Awards for the way we use our tech and the way we work with clients in that space. In 2019, I joined Practice Ignition as the Head of Accounting. That's when I put my foot more firmly into the other world."
"My role at Practice Ignition is all about taking what's happening out there in the accounting world straight in-house so that they can design products and meet our needs. The other part of the role is more of an education and advocate role to the rest of the accounting world. I try to teach other accountants how to come along in this tech journey, based on my own journey"
What happened to the accounting industry during the pandemic?
"In the cloud accounting space, there are a lot of firms who could move quickly into an online environment. For example, in our firm, the afternoon they started talking about locking down Sydney, I just sent everyone home. We already had a level of flexibility in place thanks to the cloud and could easily work remotely."
"What I've seen through my role at Practice Ignition is a really quick adoption and uplift of the number of firms who then tried to move online, especially those who were already partially online. I saw accounting firms step up and realise this isn't going away. How are we going to function in an environment with lockdowns all the time? Well, it's the technology that helps you do that."
"Practice Ignition gave accountants the solutions they needed to move quickly. You can't just plug something in and expect it to work straight away, there's a whole change management process. The onboarding team did a fantastic job of helping people through that change management process."
"That same change management process needs to happen from the accountant to the client. You can't expect a client to sign up to a new app or chuck in a new integration and not have any education around it. Education and change management. Those are things that make technology work, you need to have a process around it. Nothing just happens overnight."
How has the pandemic affected relationships with clients?
"The cloud had already given us real-time access to client accounts. This became really important during COVID for a few reasons. From an advisory point of view, we had to help our clients make sure they had cash flow, alleviate concerns and help them make real business decisions. From a compliance point of view, we had to help our clients get government grants. For example, with JobKeeper in Australia, we had to report on client accounts to the government every month."
"Without the technology that we use, there'd be no way we could do all that. Particularly in Australia, businesses would have done much worse if there hadn't already been an adoption of technology along the way and it just expanded last year."
"As COVID has eased off, there's this opportunity that exists now for accountants to continue to build on the relationships that have only gotten stronger. If you had to talk to your clients every single month during COVID, continue doing that, continue giving them the advice they need and build those relationships."
"The more you talk to clients, the less chance they have of leaving. If you're adding value to your clients, there shouldn't be hesitation for them to pay you for your time. It increases our revenue and if it's regular, it increases our recurring revenue, which is even more important because that gives you as an accounting firm a stable cash flow."
What would you say to firms who haven't gone tech-first?
"I can understand when you're so under the pump and so busy, it can be overwhelming. Let's not downplay how busy accountants are. We are absolutely the pillars that keep businesses running. If you don't have the resources available to dedicate to this, it can be daunting, because you need to know what you're talking about. However, there are solutions and providers who can come in and help you with your business."
"If your clients want to move down this path, the worst thing you can do is throw your hands up and say no to getting involved. Be involved in the conversation and acknowledge when you need to bring in a third party. Take it as an opportunity to learn and make your business better, don't be closed-minded about it.
"This shouldn't be client led, clients won't always demand it but they'll expect movement from their accountants and if they don't receive it, they'll go find another accountant. There are enough of us out there who are doing it that you'll potentially lose those clients if you don't keep up to date on what's happening."
What are the steps for introducing technology to your firm?
"It's incredibly easy to set up an accounting firm nowadays. For us, we immediately started to plug things into our tech to alleviate the administration burden because typically as a startup, you don't want to extend yourself with different hires and things that potentially aren't necessary, especially if the tech can do the hard work for you."
"You can either go client-focused or internal. If you're looking internal, you move your core, your practice management and your own ledger into the cloud. Then you look into the things that are easier to attach, for example Practice Ignition and a cash flow reporting tool. Set your own KPIs, do your own monitoring and get to really understand it all."
"If you go client focused, you would do the same thing. There are certain apps that you would get comfortable with. Start getting aligned with the AI and technology that aren't overwhelming and don't require a huge specialisation. Any of the cash flow, forecasting and KPI tools are core to what accountants do. Those should become skills across your whole accounting team."
"Apps like POS systems and inventory, those items are specialised and maybe that's not where you start. Specialists in these areas need to be educated, familiar and up-to-date with the technology themselves. However, we also have to acknowledge when we don't know something and engage outside help."
How will the business model of an accounting firm evolve?
"In accounting firms, there are often specialists. For example, I am not a specialist in certain parts of taxation legislation and I will go outsource that when needed. In the same way, there are a lot of apps and addons that I've worked with but if there's something that's particular for a client that I'm not familiar with, I will engage a specialist."
"I think industry specialisation is still absolutely relevant but I think there is an opportunity to become a technical specialist as well. We have our niches like real estate, construction, hospitality etc. but we've now got a dedicated digital team. They have their own projects but will also work with everybody else."
"I think we'll always have generalists and specialists. The generalist is almost like the triage centre, they work with you day-to-day and can identify when you need to go to a specialist. However, they still need to pay attention to their tech skills so that they can point clients in the right direction."

100% Free for accountants
List your
practice
Join our directory and showcase your expertise to 1,000's of merchants.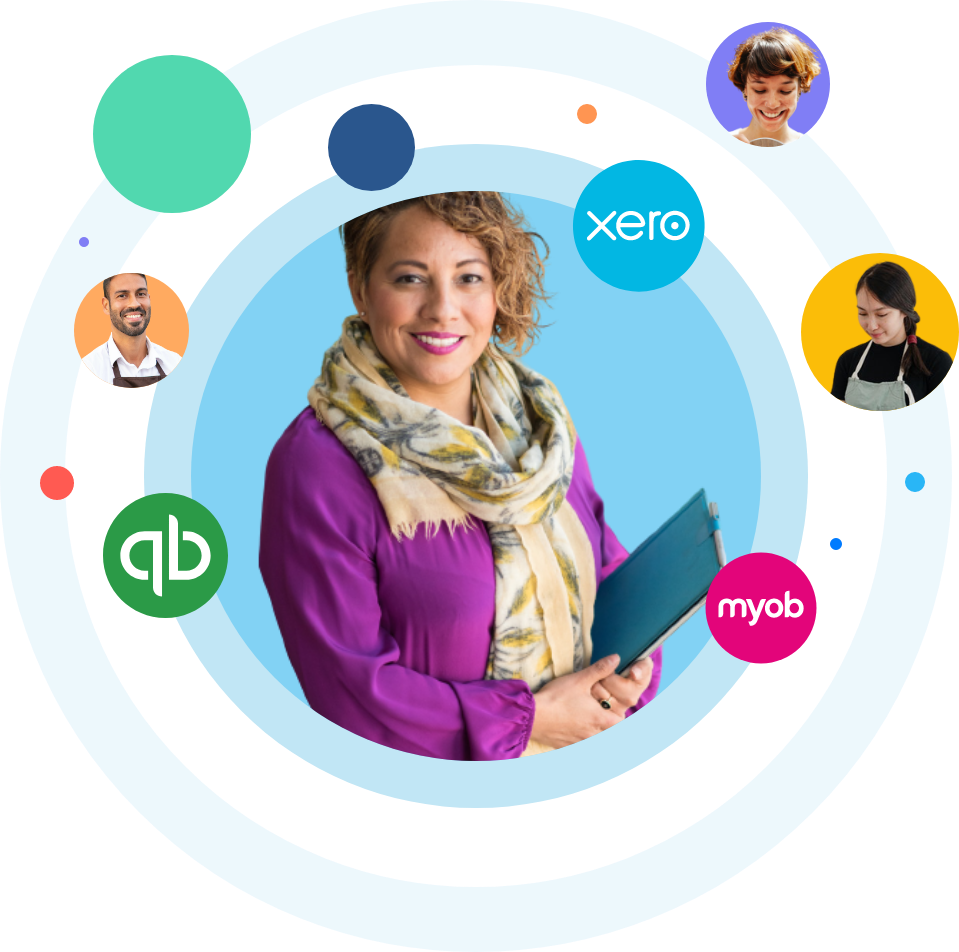 Who's responsible for the missing education piece?
"Tech companies came in to fill this because there was a gap but the people who really should be doing it are our member bodies. Almost every single accountant belongs to one if not multiple different member bodies; CA, CPA, IPA, etc. All of these groups should really be helping to drive this, they're there for education. It's great to see them start to get more involved in this space."
"We have to maintain our qualification and as we move forward, maybe that digital component should become a requirement. For example, as a tax agent, I have to make sure a percentage of the education I do every year is related to tax, but I also give out digital advice, so shouldn't that be part of my requirements?"
"A lot of the app providers have accreditation programs. You get a badge that gives business owners some confidence. It's not always easy to get these certifications. We have to learn the product, we have to pass tests and we have to maintain that knowledge every year. That probably needs to become a lot more standard amongst all apps."
How does Practice Ignition help accountants transition to tech?
"Practice Ignition is talking to accountants about how everything works together and really explaining that whole ecosystem. Change management is where they shine. Their onboarding and education that they put out through webinars and blogs has always been around supporting accountants in the wider ecosystem, not just those using Practice Ignition."
"For as long as I can remember, they've put out a lot of education. Right now, it's lots of webinars from different areas and it's not just thoughts, it's quite hands on and practical. They partner with other app providers in the ecosystem and membership bodies like CPA, CA, Xero and more. The education that's coming out of them is second to none."
About Rebecca Mihalic and Practice Ignition
Rebecca Mihalic was a founding partner of Aptus Accounting & Advisory, a cloud-based accounting firm in Sydney which focused on leveraging technology to support client growth and help solve their problems. Aptus Accounting & Advisory won the Innovator of the Year at the 2018 Australian Accounting Awards for their focus on tech advisory and efficient business services. In 2019 Aptus joined the businessDEPOT team which has expanded the firm's service offerings to their clients.
In addition to leading the businessDEPOT Sydney based operations, Rebecca is the Head of Accounting (APAC) for Practice Ignition where she helps define product and content strategy. Practice Ignition combines your proposal, contract and client payment into one smart document. It helps you win more clients, do less admin and streamline your business. Build proposals in seconds that include your terms of service (contract). Collect payments on your proposals for one-off or recurring payments.