The rise of the Accounting Technologist: Award-winning POP Business on moving towards tech
There's no doubt that all industries have been evolving in response to technology and accounting isn't an exception. In this article, we interview Sidney Cachuela, COO and co-founder of POP Business. The accounting firm has won the Accountants Daily "30 Under 30" Award and has gone from 100 to 800 clients in the past year.
POP Business has embraced accounting technology, including automation and cloud computing, in an effort to reshape tax accountancy. Sidney shares how he's integrating tech more and more into his business now that the foundation has been built. Plus, we discuss the emerging Accounting Technologist role and its importance in the future of the industry.
How has the accounting industry changed in your view?
Compared to other industries, accounting has been arguably more slow in reacting to technological change. Over the past year or so, the pandemic has spurred on a more drastic change, pushing accounting firms to adapt overnight.
"Traditional accountants and bookkeepers are historically bricks-and-mortar structured, heavy on administration and record-keeping. Rooms are filled with paper, and processes are costly and inefficient," said Sidney.
"The rise of e-commerce, digital offerings and new online business models have made the industry more complex, requiring a different level of accounting services and giving rise to Accounting Technologists who are looking at a range of software related to POS, invoice creation, administering payroll, communication and more."
"Sales and marketing for example have experienced a more mature transition. I feel as though much of the accounting industry is still at ground level. There's a huge education piece to be done both by software providers and accountants in order to fill the missing link."
What will happen to more traditional accounting firms?
"There's a massive disparity with how firms are adapting and evolving in the changing landscape. A lot of firms haven't upskilled their accounting knowledge to meet the new requirements of doing business. I see these firms being phased out or acquired by other more tech-focused firms in the next 10 years."
"Many of our clients who had been in business for awhile have spoken about their experience working with traditional accountants being unable to deliver the services they were looking for. There's been a significant change in what the customer needs and what traditional accountants and bookkeepers can provide."
"The hardest hit will be the tax agents that have a bricks-and-mortar presence. They do their services very well but they're limited in their scaling possibilities and efficiencies. You study a certain way and the landscape changes before your eyes. It's difficult to learn solutions that allow you to bridge the gap between traditional accounting and modern technology."
How will business models change for accounting firms?
Accounting firms will either all have to have a tech focus to survive, or there will become a split between more generalised firms and more specialised firms, similar to in the medical industry. According to Sidney, there will likely be a split, even with firms having a mixture of general accountants and Accounting Technologists internally.
"That's the million dollar question, do you take the generalist or specialist route? As a generalist, you can look after a wider range but the depth and complexity of your services are limited. Potentially, you could work with a specialist as well but then you have to ask, do you have specialists in-house or do you outsource and lose some level of control?" said Sidney.
"As a specialist, you could be really good at one area of accounting or accounting technology but the compromise is that the market might not be big enough."
"Ultimately, to have a scalable, large firm, you'll need a mixture of both types of accountants. But it's easier said than done. You can usually only get one or the other and you'll need to consider what your firm needs more at that point in time. It's important to be creative and have a business model that accommodates both generalist and specialist accountants."
How will your accounting firm choose what tech to specialise in?
"As accountants, we're one of the most trusted advisors and we take that role very seriously. That's because businesses aren't just looking for an accountant, they're looking for someone to help them grow their business how they want to. We're the first point of contact and our digital ecosystem needs to be strong enough to point businesses in the right direction."
"Our plan for how we'll build the company over the next couple of years is 2 pronged. One, we're guided by what the customer wants and what their problems are. Two, we're actively keeping track of solutions coming out and seeing what would add value to all stakeholders. Apps need to work well for both the customer and the accountant."

100% Free for accountants
List your
practice
Join our directory and showcase your expertise to 1,000's of merchants.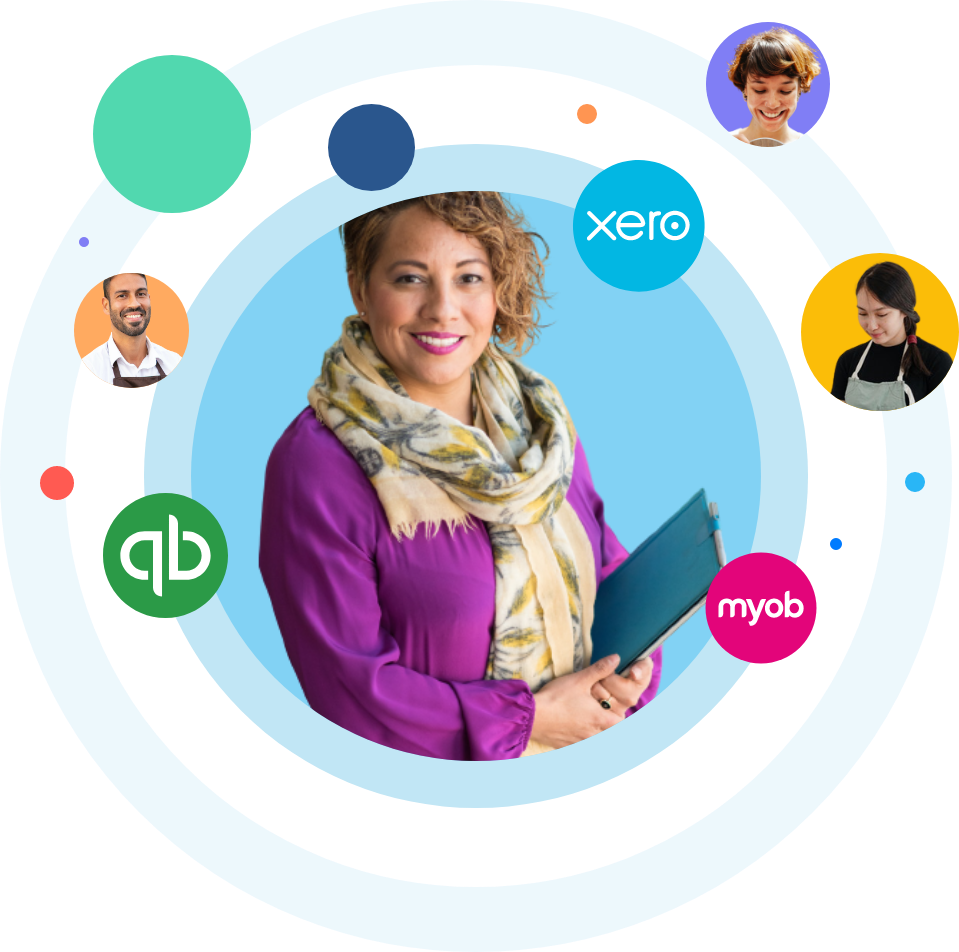 What's your process for working with different software?
"Our founding team looks at providers who can increase the breadth of what we provide. Once that partnership is solidified, we can communicate this with our management team and it trickles down to our accountants. If a client is in a certain industry or has a certain business model, our team will consider specific solutions," said Sidney.
"We work with the software providers to upskill the business owners as much as possible. Our accountants mainly focus on the accounting side of things but they also find the right people to help and connect them to business owners."
"For example, if it's a cloud banking solution such as Airwallet, part of their onboarding process would be how to use their product as seamlessly as possible and how to integrate it with other applications such as Xero. Once it's all connected, our accountants can jump in to help make sense of the data."
"We're industry and app agnostic. The app universe is so large that we don't limit ourselves based on what apps clients use. We don't limit our app recommendations either and work with experts to help clients find the right solutions. We focus more on what stage of the business lifecycle they're in, our market being micro to small businesses."
Building a tech-focused firm is much easier said than done. For existing firms, it requires major changes to processes that may have been in place for years or even decades. For firms that are just starting out, it means trying to juggle getting both the accounting and the technology side of things right at the same time.
"POP Business is only a couple years old and we're only more recently getting the chance to look at what's on the horizon. It was important for us to build our roots, be customer-first and tech-second. We want to deliver better, faster outcomes and we're working toward building accounting technology into our firm practically and into our branding," said Sidney.
"Though our bread and butter is always accounting and we do that well, that's not where we want to stop. We always look for the new cutting-edge technology."
"Eventually, there will be more displays of our technology-focus such as dedicating a whole page to solutions we're affiliated with. At the moment, we're just focused on the customers. Showing your expertise in certain applications can create trust. However, a lot of business owners might not know about Salesforce, Atlassian or all these different technology companies."
"Traditionally, businesses found their accounting professionals through word of mouth and by looking for certifications like CPA or CA. These were the hallmarks of a great accountant, but now, there's no certification to say you're aware of modern technology. Customers aren't fully aware of the benefits an expertise in technology can bring just yet."
About POP Business and Sidney Cachuela
At POP Business, we provide advisory and compliance support that helps business owners gain clarity and a path forward to build their dream business. With POP, you get more value from your accountant than just your yearly tax return – you get high-value strategic advice when you need it on how to minimise your tax, achieve your business goals and more! We've embraced automation and cloud technology to give tax accountancy the kick in the pants it needs and free up your time to do what you do best – build your business!
Sidney Cachuela is the COO and Co-founder of POP Business and has a passion for solving problems. Sid uses his passion for innovative technology and processes to tackle business issues and deliver exceptional value and results for POP's clients. It is this passion for delivering value and an excellent customer experience which POP was founded on. Sid works with the POP sales team to continue driving the company forward in developing amazing relationships with our clients. What's more, he ensures POP continues to innovate to constantly provide more high value advisory and accounting services for our clients.