The rise of the Accounting Technologist: RSM's digital disruption
One of the biggest feats a multinational company can overcome is staying on top of industry change. RSM is the world's sixth largest professional services network, with over 30 offices, just in Australia. Despite their size, they've been able to keep up with the latest innovations in accounting technology and digital ecosystems.
For the past couple of months, we've been interviewing different sizes and types of firms about the rise of a role we've dubbed as the Accounting Technologist. These people are at the intersection of accounting and technology, building tech stacks around accounting software in order to improve processes.
Today, we'll be sharing our interview with Kian Ghahramani, Principal at RSM Australia, and Aleesha Bailey, Strategic Outsourcing Lead at RSM Australia. They take us through exactly how they've been ahead of global digital disruption; the challenges they've had to overcome in the past and the opportunities they're pursuing in the future.
How have your roles evolved at RSM?
"I've been very fortunate to have RSM create a very unique, ever-growing, fluid role for me," said Aleesha. "They've let me run with my ideas and have helped to channel me in the right direction."
When Aleesha joined the RSM team about 3 years ago, her role mainly focused on management accounting as well as looking into how she could standardise RSM's service offering. However, as time went on, she started looking more into digital transformation, digital ecosystems, and how she could build those directly into day-to-day accounting.
More recently, Aleesha started working directly with clients again. She works to build efficient and accurate tech stacks for a range of clients by outsourcing only the best-of-breed technology. "Our overall game is to provide the best value to clients, stepping back from data entry and talking to them about how their business is performing," she explained.
Kian's journey at RSM has been almost 7 years long. He started as a Senior Accountant and is now a Principal of the Business Advisory Division. His role is based on three pillars; making sure staff are receiving the support and upskilling they need, meeting client obligations through a forward-thinking approach, and making sure the business unit as a whole is performing.
At what point did you realise technology-based roles were key?
"About 6 years ago, senior leadership started talking about digital disruption happening in our industry," said Kian. "We wanted to get ahead of it by creating an offering where clients could outsource this part of their business, get access to a full team with extensive knowledge and reduce risk."
"It all started when cloud-based software started kicking off. We were forever trying to get clients to move onto these platforms. We wanted people who knew these platforms like the back of their hand and could build relationships with the vendors."
At that point, RSM decided to start their Digital Team who worked to understand the various products and apps on the market. "We wanted to do more than just tax returns and compliance, and be an instrumental part of every business," said Kian. "We wanted to be there in every step, highlighting the issues to be aware of, not just at the end of the financial year but as it happens."
"We wanted to be able to scale things up and do this at a higher volume." After a few years, RSM started having enough clients to have a whole division filled with roles based in technology. Aleesha's Strategic Outsourcing Team was introduced. They started getting vendors to come in and showcase products, allowing an even deeper understanding of apps.
How did you manage digital transformation at the start?
"Getting onto cloud-based accounting software, to me, that's just where the journey starts," said Kian. Before you can move onto anything else, you need to get the data into a format that's easy to manipulate.
"It was the next step, looking at POS systems, inventory management, and sales functions, that was overwhelming, especially in the early stages," said Aleesha. She worked to understand every single app available on the market before she realised it would be better for her to zone in on the major players in each vertical.
Choosing what categories of apps to look into first was based on both client demand and the team's own experience. At the beginning, they looked into app markets that would make an immediate difference, such as bills and expense management, and payroll systems. These would allow for more timely KPI reporting and analytical reporting.
How do you choose what apps to specialise in?
"Internally, we look for products that we believe are value add items. We use these to draw value out of our client's data through graphs or easy-to understand numbers. These apps help to give a better representation of how a business is doing," said Kian.
"Externally, there's so many needs out there and it's hard to pick one single app that covers everyone," said Kian. RSM does a lot of due diligence when evaluating different apps. They invest heavily upfront in speaking to all the major stakeholders, including vendors and clients, to see which apps can work well within a tech stack.
"We do try to standardise as much as we can, but we see each new engagement as a specific tailored approach and we're quite flexible. We typically recommend a few apps, we're not biased, we present a report with all the information and clients can pick. However, we do have our standard options for those who just need a standard, off-the-shelf solution," said Aleesha.
"When we recommend a product to a client, as a advisor, we've got our name on it, and they need to trust that it'll work for them," said Kian.
How do you manage knowledge across multiple offices?
Previously, there were centrally-located Digital Advisors and Cloud Administrators. Now, there's a Local Office Digital Advisor (LODA) and Local Office Cloud Administrator (LOCA) in all 30+ offices. The Strategic Outsourcing Team works with the Digital Team to educate the LODA and LOCA, allowing them to pass on knowledge to the rest of the office.
RSM's structure allows advisors in each office to feel supported in the digital and cloud space. "There's now a broader interest from all the advisors because they know they have the support there. They don't have to go down the track of learning everything and implementing everything themselves," said Aleesha.
LODAs and LOCAs are closer to clients and can identify opportunities that could provide more value. Every month, they present to 2 to 3 people in their office about a new app, opportunity, or space that could bring value to clients either internally or externally.
How do you create a forward-thinking culture with a large team?
"You want someone who's got an endless thirst to know what's out there, who's good at technical conversations, who wants to go out and learn new things themselves and see where they can fill gaps," said Kian. "We're trying to push an innovative culture with an innovation committee and annual hackathons, among other things."
RSM Australia have worked hard to create a culture that fosters thinking outside the box. They encourage everyone, from undergraduates to managers, to accept technology and become early adopters. "They have the opportunity to come to us at any time if they think there's a more efficient app or process," said Aleesha.
"For example, we needed a new internal workflow resource management system and we got one of the juniors to work on this so that he felt part of the process. He did the due diligence himself and presented it to one of the partners, actually Kian in this case."
Will there be space for traditional firms in the future?
"As long as there are businesses that just want their tax and compliance done, there'll be space for accountants that do the basics," said Kian.
With more firms aiming to become tech-first, there'll likely be a fork in the road that creates a clear divide between tech-focused and traditional firms. Though there will still be demand for traditional firms, it seems likely that businesses looking for advisory services will opt for firms that have experience in tech stacks, digital ecosystems, etc.
How would you recommend tech-focused firms lift their profile?
"Simply deliver. It's one thing to say you do things well, it's another to actually do it," said Kian.
"Rather than just looking at the competition, we focus on the relationships we build with our clients and how we can stretch ourselves for them," said Aleesha. "We're there for the long-term, to develop with businesses as they grow. We often start off clients with a little tech stack and continue adjusting as time goes on."
At RSM, the team relies heavily on referrals from clients who've had an incredibly customer experience. "If your value proposition is based in technology, make sure you know it inside and out. If you stay ahead of your client's needs and deliver what you promise, they will recommend you to others," said Kian.
What's the next biggest trend in accounting technology?
"Nationally there's a focus on robotics process automation, or RPA. We're far away from the consulting side of it, but internally, it helps us move quicker, more accurately and provide a more meaningful service," said Kian.
One member of the Strategic Outsourcing Team has already been looking at robots and developing robots. RPA will allow the team to have more time to spend on value adds rather than manual tasks. The aim is to create efficiencies with data entry, downloading and sorting documents, and any other processes that could be automated.

100% Free for accountants
List your
practice
Join our directory and showcase your expertise to 1,000's of merchants.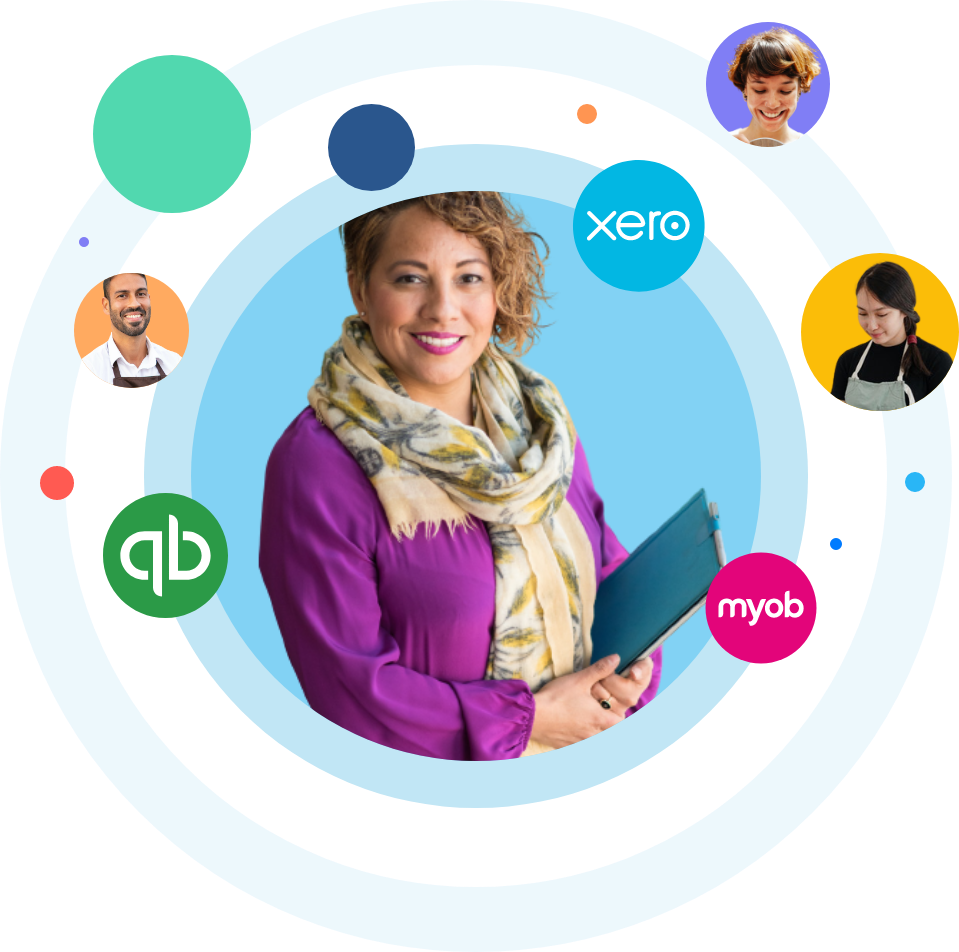 About Kian Ghahramani and Aleesha Bailey
Kian Ghahramani is a Principal at RSM in Sydney and has over 14 years' experience in accounting, taxation and business advisory. He provides accounting, business advisory, outsourced CFO and compliance services to his clients, both local and international. Read more about Kian.
Aleesha Bailey leads the firm's Strategic Outsourcing services. Based in RSM's Sydney office, Aleesha has worked with numbers virtually all her life. With significant experience advising SME and listed clients, both nationally and internally, on complex issues of financial administration including mentoring and assisting in-house finance teams through strategic outsourcing services. Read more about Aleesha.