Starting at USD 33/month
Let us
reconcile

your books!

Let our Integration Specialists take care of reconciling all transactions synced with Amaka's accounting integrations.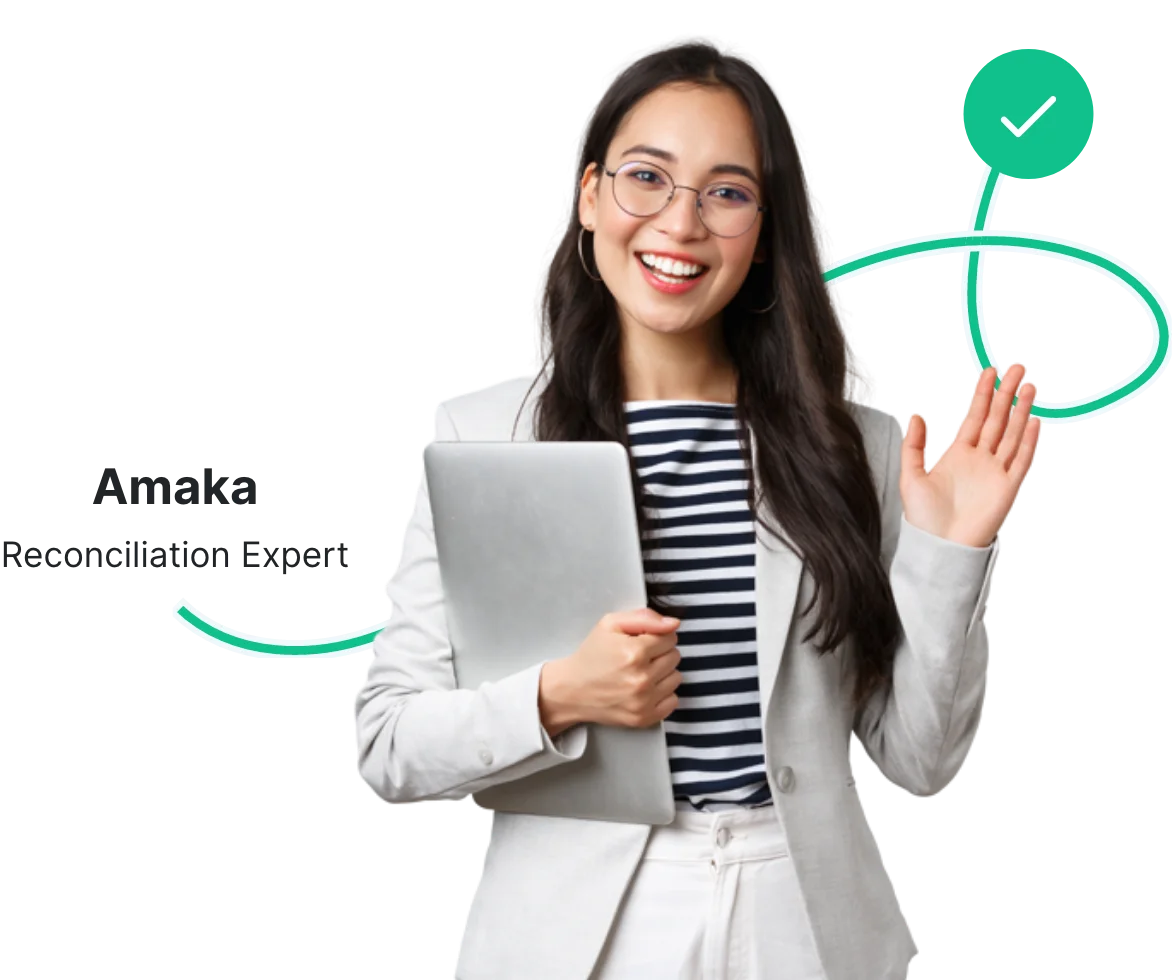 100% Precise reconciliation
Outsource your e-commerce and/or POS payment reconciliation. Both time saving and convenient, making it the perfect addition to your Amaka accounting integration.
100% Precise reconciliation
7 days free trial
End-to-end reconciliation
We'll take the reins on your reconciliation, from start to finish, on all transactions and accounts synced by Amaka's integrations.
Clearing accounts
We make sure your clearing accounts are accurately matching up to your unpaid payouts and are regularly being zeroed out.
Multiple payment types
Any and every payment type is welcome, we'll take care of reconciling it all. Includes relevant e-commerce and POS platform fees.
Multiple locations
We'll handle bank reconciliations for all your business' locations, making it easier for you to manage your growing business.
Regular updates
Each month, you'll receive an update from us on your reconciliation along with optional analytics for a worry-free experience.
No more human errors
We'll find the problems you might've missed, such as mapping errors or unclosed invoices, to keep all your records in check.
You will be billed on a monthly basis but are not locked in on a contract for this service.
Every month, we will reconcile all transactions synced by Amaka's e-commerce/POS accounting integrations. We typically provide monthly updates on the status of your reconciliation along with additional reports but you can opt to receive these reports less regularly.
You get access to a 7-day free trial before the billing cycle begins. If you want results sooner, you can choose to get your previous 7-days of transactions reconciled straight away. You will get a progress report as well.
Book a call for the Managed Reconciliation Service
to get started with your free trial.
This service is beneficial to business owners and accounting professionals who use or have clients using Amaka's e-commerce and POS integrations to Xero, MYOB, or QuickBooks Online.
As part of the Managed Reconciliation Service, we will manage the payment/bank reconciliation for the accounts that are involved with the Amaka integration/s you have active. Any transactions that aren't synced by our integrations are not in the scope of this service.
In our updates, we'll keep you updated at every step on the outcome of your reconciliations, raise any issues found, and recommend any changes to make such as best practices for account mapping, customisation, closing invoices and more!
Optionally, you can choose to receive additional data analytics and reports that dive into sales, engagement, etc.
Yes, you can definitely include your accountant or bookkeeper and we'll coordinate with them on this service.
Yes, you can definitely pause the service on occasions when no transactions are being processed.