The rise of the Accounting Technologist: Illumin8 on becoming tech-first
In the past decade, the accounting profession has undergone a major transformation. Accountants have always been the backbone of businesses, however, the way they're fulfilling that role has changed. From stacks of papers to spreadsheets, and now, cloud-based accounting, technology has become a must in the industry
The more forward-thinking accountancy firms have gone beyond cloud-based accounting, leveraging all kinds of software. In order to provide the most value to clients, these accountants are becoming well-versed in technology stacks, app integrations, APIs and more.
Until now, there hasn't been a title that properly describes these professionals. However, we think the term Accounting Technologist describes the role perfectly. We interviewed Shane Scott, an Accounting Technologist from Illumin8. He talks about his journey, the business's progression and the role of accounting technology in the future.
Is 'Accountant' the right title for your role?
When organising this interview with Shane, we noticed that the title in his email signature said Accountant even though we knew did a lot more than that. He explained that even though his external title is Accountant, internally, he's known as the Head of Process. His role involves one third accounting, one third software implementation, and one third just running business processes.
Shane's hybrid position involves innovating what the accountant could do, using tech to bring apps together and understanding the space well enough to advise businesses on the tools they should use. When we asked if he thought the Accounting Technologist title better described what he did for clients, he said, "Yeah, 100%!"
How did you become an Accounting Technologist?
"Being in that position of working in the industry, there was a very natural need for people who were skilled in different apps, how they connect with APIs and how they sync," said Shane.
Though Shane was a finance guy and ended up in accounting, he had always loved tech and coding. When he discovered Illumin8, he knew he was exactly what they needed. The company had a clear tech focus, but wasn't large enough to be able to hire a full-time software whizz. Shane was able to do accounting while bringing a strong understanding of software to the table.
As a result of higher customer demand, Shane has significantly built up the tech side of the business. For clients, he helps to define the apps in their technology stacks and ensure the apps can talk to each other effectively. As a result, data moves more efficiently, is more precise, and can better inform business decisions. Hence, he's able to increase margins on existing clients while also appealing to potential customers.
Though Shane almost fell into this expertise, the need for an Accounting Technologist is becoming a lot more strategic. Now, many firms, such as Illumin8, are specifically looking to hire people with Shane's attributes.
How has the demand for tech expertise changed?
According to Shane, "Illumin8's always been on the front foot." The accounting firm was cloud-based since they started almost 9 years ago. At the time, the level of tech expertise needed was more limited. Illumin8's founder, Andrew Van De Beek, was able to start using some software until Shane was able to implement a wider range. In the past few years, their tech expertise has helped tremendously in staying ahead of competitors.
"Our client base 3 years ago, only 2 to 5% approached us because we were good with tech outside of Xero, a lot of people just came to us because we were great with Xero," said Shane.
"Looking at the leads knocking on our door now, I would say a good 10 to 20% are looking at us in particular because we're known to use a range of apps and tools."
Illumin8 was in the perfect position to help businesses automate processes with proper app implementation. The firm spends a lot of time problem solving and finding the best solutions for clients. Shane finds that there's definitely been an increasing "need from our clients" for these services. However, he does attribute some of the growth to their branding. Their efforts involve positioning themselves strongly to clients that would embrace tech.
Interestingly, Illumin8 has had a growing proportion of clients that have an existing accountant and come to them purely for tech-related help. They're always happy to help people out, however, it does unintentionally become a cross-selling opportunity. Illumin8 has had many of these clients take on their accounting services too.
How does Illumin8 introduce tech to clients?
Illumin8 delivers their tech expertise through a personable relationship management approach. Instead of implementing a traditional ranking or hierarchy approach in the firm, each accountant manages their own client. When a client needs help with tech, the accountant can speak to Shane or another Accounting Technologist and then pass the knowledge onto the client. This way, clients get to know one face rather than being handballed around.
In general, the process of introducing tech solutions to businesses involves introducing the software that Illumin8 uses themselves. "Sometimes, we actually help with how to use it," said Shane. "We have a deep understanding since we use them ourselves and know them like the back of our hand." For example, all clients will be on Xero within the first year that they start working with Illumin8.
There are a mix of tech solutions offered. Often, Illumin8 will strive to fix issues that clients didn't even know needed to be fixed. For instance, many businesses don't know that integrating Shopify with Xero can simplify processes significantly. Other times, customers will raise pain points that they need fixed. Currently, inventory, employee management and payroll are some of the most common issues that can be solved with software.
What should a business owner look for in an Accounting Technologist?
When you're looking for an Accounting Technologist, there are a couple things to look for to make sure you'll be working with someone who actually has a strong tech background. First of all, you'll want to see if being a tech-focused accountant means more than just cloud-based accounting software. What other apps do they use? Can they recommend apps for your business?
On top of understanding these apps, they need to understand how apps connect. All businesses need a technology stack that specifically works for their business. For example, if you run an e-commerce business, you'll likely need an e-commerce platform, payment processing software, inventory management system and shipping platform. Your accountant should be able to understand all these apps as well as how to integrate them with your accounting software.
How is tech changing the way accounting firms define their target market?
One of the most interesting developments we're seeing is the way tech is changing how accounting and bookkeeping firms define their target market. In the past, when we asked an accountant what verticals they worked with, they might say fashion or restaurants. Now, more people are defining who they work with based on the tech that they use such as an e-commerce system or a POS system.
Shane explained that his verticals included e-commerce, trades, hospitality and alcohol. Most interestingly, he said, "Our vertical is definitely e-commerce, whether or not they have a brick-and-mortar is not something we care about, they're e-commerce clients primarily." In fact, Shane actually watched multiple clients pack up their brick-and mortar-stores to go completely online in the past year.
Not only does he call e-commerce a vertical because of its rapid growth, he's also very familiar with the tools and can in turn drive a lot of value. He asked, "Why would you limit yourself to one type of vertical when you can just encompass all of e-commerce based on the tools?" For example, he can help debug odd refunds and weird exports that go into Xero if you use an e-commerce system, no matter what specific industry you're in.

100% Free for accountants
List your
practice
Join our directory and showcase your expertise to 1,000's of merchants.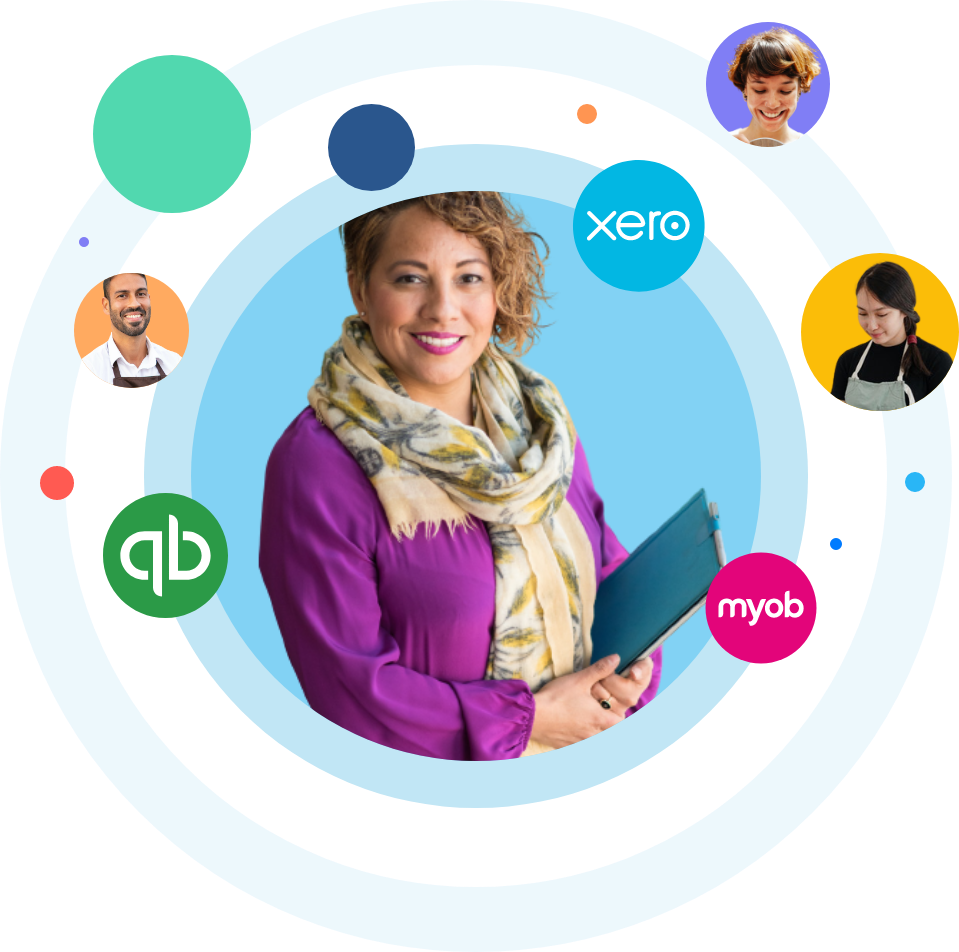 Should all accounting firms have a foot in tech?
The reality is that many accountants will look at tech problems and see it as a different realm of work. In Shane's view, though there will always be a demand for firms who just focus on accounting and tax, the demand is decreasing. He's found that many clients come to Illumin8 because their last accountant had trouble understanding a tech-related issue.
Though there are still a lot of complexities in accounting for businesses with high turnovers, it's becoming easier for small business owners to do some aspects of their accounting on their own. Accounting firms that can't offer small-to-medium businesses an innovative tech solution could be missing out.
"Businesses that focus on SMBs should definitely have a foot in the tech market. If you want to increase the revenue stream from your existing customer base, investing in the tech area is absolutely necessary," said Shane.
It's clear that investing in tech expertise is more sustainable long term from a commercial perspective. You can increase your margins on existing customers and attract new ones. However, it is one of those things that's easier said than done. Often, accounting firms will implement huge technology stacks without completely understanding configuration and integration processes.
"It's a hard thing to do, especially for firms made up of only a few people. I understand why people wouldn't go into tech but I definitely encourage it, or, you'll have a hard time growing. More and more people need tech now."
What is the future of tech in the accounting world?
"We view it as a key differentiator of our firm," said Shane.
In 2021, Illumin8 is putting a greater focus than ever on becoming a tech-first business. They have plans to split off the software implementation side of the business into its own unit so that it can get the time and attention it deserves. "We'll continue to push and grow on this, especially as the demand for it grows," said Shane.
In terms of the future for accounting tech in general, having tech expertise will be like going from a doctor to a specialist. People's perceptions of accountants are changing and so are their expectations. "When you think of an accountant 10 years and think of an accountant today, it's a completely different perception, or at least I'd like to think so," said Shane.
"Historically, when people would think about their accountant, they would think 'boredom."
Now, businesses are expecting their accountants to help them sort through all the tech available to them. There are a bunch of fantastic tools and it's easy to become overwhelmed by the flashing lights. Accountants need to be able to educate people on the right apps and how to use the tools together. The more you're willing to move with the industry, the more clients will appreciate your work.
About Illumin8 and Shane Scott
At Illumin8, we want our clients to roll out of bed and devote their time to what they value most: friends, family, dreams, passions and side hustles – not paperwork. But we're more than just number crunchers. Through cloud-based technology and innovative solutions for growth, we're unshackling small business owners, freeing them from outdated, cumbersome business processes.
We're not just ahead of the curve, we're changing it, giving more freedom back to you. We have evolved to create greater impact across your business. We are freedom fighters. We are rebels with a cause. We are Illumin8!
Shane Scott is probably the biggest computer nerd going around, with a weird fascination for getting up before the sun is up to lift heavy things and run not so long distances. Putting aside his fantastic dog whispering skills, he spends Monday to Friday pretending to be an accountant while punching out new technology and checklists for the Illumin8 team.
He is currently battling an unhealthy addiction with home-automation, and learning JavaScript for kicks.