The rise of the Accounting Technologist: Future Firm on the three steps to scaling
Recently, we've interviewed a range of firms including RSM, Illumin8 and Ecommerce Accountants, asking them about the rise of the Accounting Technologist role. The role encompasses those at the intersection of accounting and technology, driving innovation in the accounting industry.
Today, we have a unique guest, Ryan Lazanis from Future Firm. Ryan started his own tech-focused, online firm a few years ago before selling it and starting a coaching business instead. Since then, he's helped dozens of people build a modern accounting firm through streamlined processes, cutting-edge technology and automation.
In this exclusive interview, Ryan shares his journey from starting a firm, selling it and finally starting a coaching business. He reveals how hiring an Accounting Technologist can allow the firm to make the most of technology, both internally and for clients. Plus, see what mistake 9 out 10 firms are making and learn how you can avoid it.
Why did you decide to start your own tech-based accounting firm?
"I was originally at a small CPA firm for about 5 to 6 years, getting my CPA designation while I was there," said Ryan. "After that, I transitioned into a new company but realised after 6 months that I hated what I was doing. I went home every day trying to figure out how I could start my own business instead."
After a lot of thought, Ryan decided he could start his own kind of accounting firm. "When I started Xen Accounting, the goal was just to make it easier, bring it all online, meet with clients online, use cloud tools to craft a streamlined and automated accounting firm model. I wanted to improve the lives of both clients and employees. I needed a new model that was better and more scalable."
"This was at a time when it was already happening in Australia and New Zealand but not at all in Canada, people weren't comfortable with cloud-based tools and people were used to meeting their accountants in person. I did eventually find my niche though. It was millennials, tech-oriented businesses and tech startups."
The first few years were filled with trial and error, and a lot of costly mistakes. However, Ryan eventually found his footing. He developed a pricing model that was actually profitable, found the marketing techniques that worked for him and figured out how to manage a remote team. In a short few years, he scaled his team to 15 people.
Why did you sell your firm and start a coaching business?
"I wasn't expecting to sell when I started my business. My dad ran his own small business for decades and I was going to follow in his footsteps. However, I started receiving a lot of interest from firms who wanted to merge or acquire. This model hadn't been seen before. The fork in the road forced me to figure out what my purpose was."
Eventually, it became clear that Ryan could do more to advance the accounting profession. It was late 2018 and there was a great offer from a large corporate services firm in Europe looking to buy his firm. After 5 years of building Xen Accounting, signing the deal was the clear choice. "I started Future Firm right after. It was a relatively short transition period."
What was your goal in starting Future Firm?
"Future Firm is there to help other modern accounting firm owners fast track the growth of a scalable model, to help them avoid the costly pitfalls that I had made."
Ryan has worked to catch the attention of accounting firms who want to quickly create a scalable firm of their own. They understand the value in building a tech-based firm but aren't exactly sure how. This includes sole firm owners, two partner firms, new firms and firm owners who want to work on the business rather than in the business.
A lot of the time, the initial enquiry looks the same. People want to be using the best technology to become more efficient and more automated. "A lot of the time, these accounting firms need to spend time systematising and standardising their processes before they can automate them. My goal with Future Firm was to guide people through this journey."
How can an accounting firm make the most of technology?
"A lot of the time, there's other things they need first, the problem is not technology. You can only make the most of technology at the end, it's the last piece of the puzzle."
As mentioned above, many firms should actually focus on systematisation and standardisation before attempting to grow their technology expertise. Interestingly, many modern, online firms are already using a tonne of apps. In many cases, it's worthwhile to slow down and spend more time evaluating whether or not the cost of implementing an app outweighs the benefits.
After the foundation is laid, a firm can introduce technology by hiring someone with a strong technology background. For example, Ryan took care of all the technology up to a certain point. As the year progressed, he knew that he had to hire a Software Engineer in order to maintain his competitive advantage.
"I think all modern firms, when they reach a certain age, need a mix of accounting and technology skills. If you look at a lot of these cutting-edge firms, they don't just have accounting experts on the team. They have a CTO, Accounting Technologists and Software Engineers. I certainly see that as the future, I see that as the edge and I'm pushing firms to go in that direction."

100% Free for accountants
List your
practice
Join our directory and showcase your expertise to 1,000's of merchants.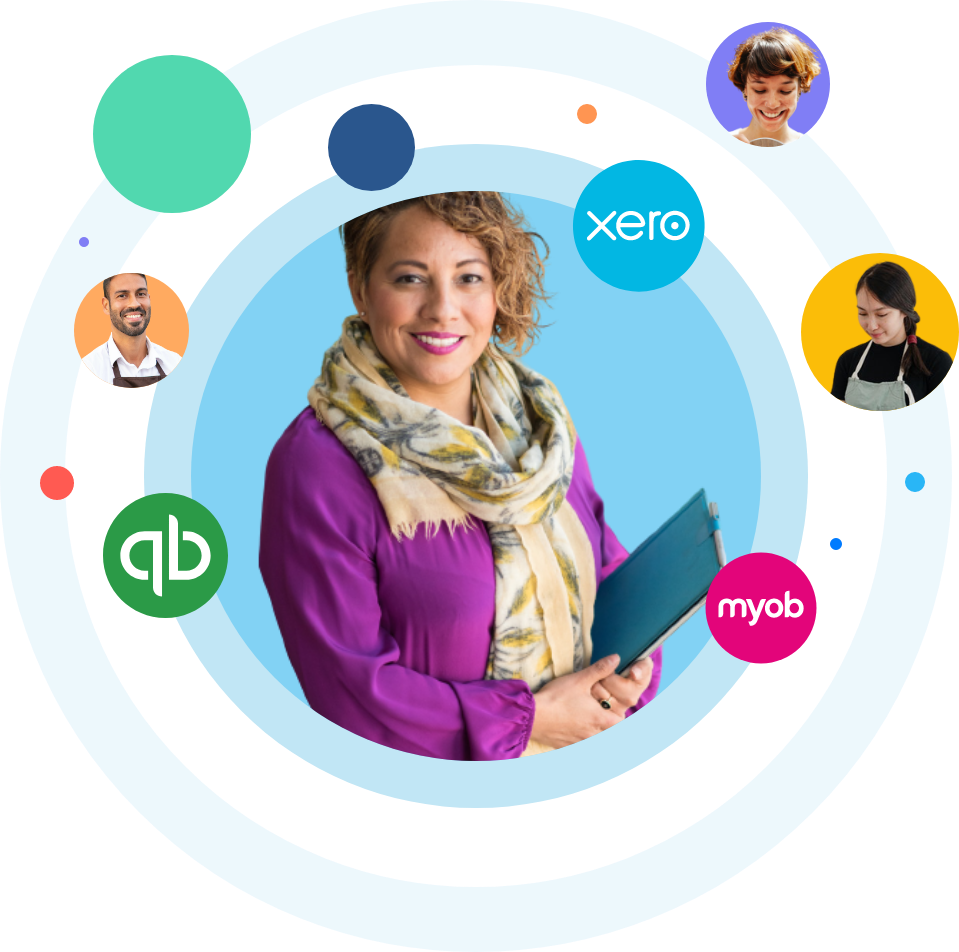 What should you look for in an Accounting Technologist?
"The Accounting Technologist is there to automate processes and so they need to understand the workflows that impact both the firm and the clients. They have to be someone who is process-oriented, methodical, curious and loves efficiency. Ideally, they would have coding skills as well."
While Ryan was running his own accounting firm, he put someone with a technology background on bookkeeping for a few months. By embedding them in the workflow, they could better understand the apps and processes involved. By the end, they were in the perfect position to recommend apps and to keep up with new features.
What's the most common mistake tech-based accounting firms make?
"Looking at their pricing strategies, 9 times out 10, they're pricing too low. A lot of these firms aren't even profitable or they're making very low profits."
One of the biggest surprises has been how often firms are undercutting themselves. People are used to setting an hourly rate, not a subscription based rate. Firms are coming out with comprehensive packages, offering a bunch of services and apps, but aren't pricing them to reflect the value offered.
"When just going for efficiency gains with an already technology-forward firm through automating certain processes, you can squeeze out another 10%, even 20% efficiency. It will have an impact on the margin, but if we can double the price charged, this will move the needle way more. Fix the pricing strategy first. Optimise after."
How can a tech-based accounting firm successfully compete?
As part of Ryan's Future Firm Accelerate online coaching program, he introduces a three phase model for successfully scaling an accounting firm. Phase 1 involves designing your business from the ground up to be scalable, figuring out what your target market is and what your unique selling points will be. Often, firms are too broad in who they go after and can benefit from narrowing down.
From there, Phase 2 involves putting together a pricing strategy and a sales and marketing process. This involves acquiring customers through a range of marketing channels. Finally, Phase 3 involves scaling, attracting talent and keeping clients happy. Firms might find that they work with a certain niche very well and can narrow down their target market as they go.
What's a trend you're seeing amongst forward-thinking firms?
Through Future Firm, Ryan has had a unique opportunity to work with a massive number of forward-thinking, tech-based firms. One trend he's seen recently is the transition into a more passive model of income. It'll be extremely interesting to see how this trend develops and the industry progresses.
"The first year of Future Firm, I was doing 1-to-1 coaching, but now, I've put what I've learned into a streamlined, community-driven membership model complete with online courses and live coaching. By taking my program into the online education space, I've realized that firms can apply the same approach with their clients in a more Do-It-Yourself model for a fixed monthly price. The appetite for this model is growing significantly at the moment since it's super high margin. You can teach clients to do a bunch of the work themselves and support them along the way via group calls.
There are two paths a firm might take when going down this route. The first, they might just offer some guidance and support along the way, perfect for a more downstream market. For firms going after higher-priced clients, they could go upstream where they get access to exclusive content and advisory services as well.
About Future Firm and Ryan Lazanis
Ryan Lazanis, CPA, CA founded Xen Accounting in 2013, a 100% cloud-based accounting firm. Following its acquisition in 2018, Ryan started Future Firm to help accountants fast-track the growth of an online, scalable firm through free tips and tricks via his weekly newsletter sent to 4,000+ firm leaders or through Future Firm Accelerate, his online coaching program.