How to integrate Square with QuickBooks Online accounting software
In this article we'll take you through how to integrate Square with QuickBooks Online (QBO) accounting software to streamline your accounting process. If you're a business owner, you're aware of the importance of accounting for auditing, reporting, and taxation and have likely invested in an accounting software to assist in these processes.
Square has long been a reliable and convenient Point of Sale (POS) system for business owners to use for payments, inventory adjustments, among other functions. Recently, they've launched their e-commerce platform as well. Square is known for its user-friendly interface that helps you manage your business overall. Connecting Square to QBO can save you dozens of hours a year on manual work.
Why integrate Square with your accounting software?
For business owners, utilizing accounting software creates a seamless experience for managing all business finances. With Square being a POS and e-commerce system that assists in payments and stores data, inputting this into your accounting software can easily become a long manual task that requires frequent updating. By using an accounting integration, the data gets synced and updated daily, helping you keep track of all financial aspects of your business and set you up for long term success.
Features of the Square + QuickBooks Online (QBO) integration
Integrating Square with QuickBooks Online offers significant advantages to businesses. It can automate accounting processes by syncing Square sales data, saving time and reducing the chances of errors. This integration can also provide timely visibility of sales, pulling the information from Square daily and accurately mapping sales to the appropriate accounts and tax percentages in the accounting software.
The integration of Square and QuickBooks can help businesses reduce the costs associated with manual bookkeeping and accounting, freeing up resources for other important tasks. Some of the key features involved in this integration are:
Capture all payment transactions including gift cards, tips, tax and Square fees.
Square sales and payments are automatically matched to the bank feed for easier reconciliation in QuickBooks Online.
Customisable sales summary view choosing from a wide array of formats.
How much does it cost to connect Square to QuickBooks Online?
For the Square + Quickbooks Online integration, Premium plans are available. Regardless of which plan you choose, you're able to receive unlimited support from our customer support team and are able to request 1:1 onboarding support. Learn more about the features on our pricing page.
How to connect Square to QuickBooks Online
Your sales data from the previous day will be synced to QuickBooks Online (QBO) as an invoice automatically. To set it up, you will need to authenticate both accounts, and select your preferred setup method, account mapping, and the daily sync time.
The integration covers all payment transactions, such as fees, tax, and gift cards, from Square to QuickBooks Online. The bank feed will also be automatically matched to the transactions, eliminating the need for manual bank reconciliation.
The Square + QuickBooks Online accounting integration is simple to set-up. Follow the steps below to start using the integration:
To begin, navigate to the Amaka dashboard, create an account and select Square + QuickBooks.
Log in to your Square account and authorize relevant permissions by clicking Allow.
Verify your QuickBooks Online account by clicking Connect new account.
Select the QuickBooks Online organization you wish to connect to and click Allow access.
Proceed by clicking Save + Continue.
Utilize the wizard to choose your desired setup method, invoice breakdown, invoice format, mapping, and scheduler options to finalize the integration setup.
To complete and activate the integration, click Save + Continue.
How to do bank reconciliation with Square + QuickBooks Online
With the Square + QuickBooks integration, you don't need to worry about manually matching transactions. The bank reconciliation feature matches transactions to the bank feed automatically, doing the heavy lifting for you.
Follow these steps to successfully do a bank reconciliation between Square + Quickbooks Online (QBO):
In QuickBooks Online, select Banking and then For Review.
Select the Recognised filter from the dropdown and find the transaction.
There will be suggested matches listed. From the Action column, select Match and you're all done!
Starting at USD 33/month
Let us
reconcile

your books!

Our Integration Specialists can also take care of reconciling your books.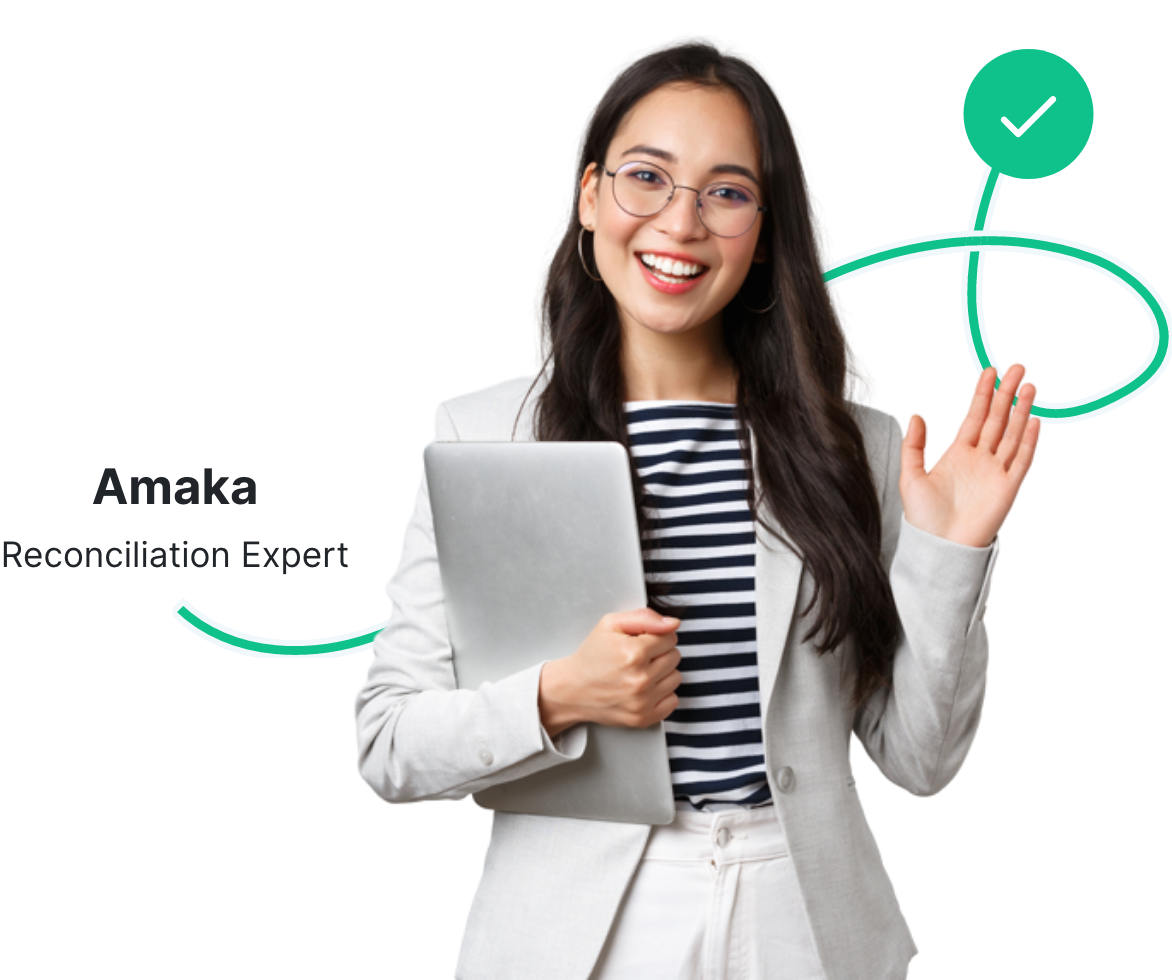 How to connect Square to other accounting software
Integrating accounting software with Square can greatly benefit businesses worldwide. Through seamlessly integrating accounting software into existing systems, businesses can streamline their financial management processes, including invoicing, bank reconciliation, and financial reporting. This not only saves time but also improves accuracy by eliminating time investment and the need for manual data entry.
Additionally, accessing daily sales summaries through integrations can provide valuable insights for businesses to make informed decisions about their operations. Having these systems integrated makes it a worthwhile solution for businesses and looking to optimize their accounting processes regardless of their location.
Support for connecting Square to QuickBooks Online, etc.
With our 2-Minute Express setup option explained above, you're able to integrate Square to each of these accounting softwares in minutes. However, if you need more support, we have the Guided setup option where our Customer Support team assists you via Zoom, to help you every step of the way in our integration. If you have any questions or experience any roadblocks in getting started, contact our help desk and our team will be happy to assist you.
Key takeaways on connecting Square to accounting software
Square users can greatly benefit from the various integrations available through Amaka. With a wide range of integrations available, it becomes accessible to all users, no matter what their accounting software preference is. By linking Square and the accounting software, businesses can save dozens of hours a month on their Square accounting practices, leading to better financial management and overall business success.