Shopify accounting: How to reconcile Shopify payments in Xero
Most Shopify owners won't be an accounting whizz at the start, making it hard to understand how to reconcile payments. Fortunately, we'll take you through how to make it as quick and easy as possible. Today, we're using Shopify and Xero to demonstrate the process. However, the main principles are applicable for most businesses and cloud accounting solutions.
Before we start, we'll take you through what's involved in bank reconciliation and why you can't definitely shouldn't be ignoring it. If you're already in the loop on what bank reconciliation is, and understand the importance of it, use the menu below to skip to the fourth section. We'll show you how to reconcile Shopify payments in Xero.
What is bank reconciliation?
Reconciliation, otherwise known as bank reconciliation or payment reconciliation, is an accounting process that involves comparing two sets of records to ensure that finances are correct. Typically, this will include an internal record such as your accounting software and an external record such as your bank statement.
Do I have to do reconciliation for my Shopify business?
At least in Australia, bank reconciliation isn't necessarily required for legal reasons or compliance reasons. However, it's a process that's strongly (strongly) recommended for all businesses. Performing bank reconciliations every month allows you to make the most of the benefits.
What are the benefits of regular bank reconciliations?
First and foremost, you have the chance to spot any discrepancies in your books before it's too late. These can be caused by a number of factors including fraud, accounting errors, unprocessed checks, unaccounted fees, bounced checks and more. The earlier you spot a discrepancy, the better chance you have at fixing it.
Regular bank reconciliations allow you to get the most accurate and up-to-date view of your business's financial health. If you're going through the process monthly, you have the chance to review your spending habits and cash flow. On top of that, if you reconcile payments less often, you'll have more to go through.
How to reconcile Shopify payments in Xero
Now, we'll take you step-by-step through how to reconcile your Shopify payments in Xero. Note, this is only one of many methods you can use. However, we've found that this is the most effective and efficient way to go about bank reconciliation. We'll briefly touch on different methods throughout this.
What does bank reconciliation look like in Xero?
In Xero, bank reconciliation is done by matching up bank statement lines to transactions created. Statement lines are essentially your bank transactions and can be imported automatically through a bank feed, or manually. In the essence of saving time, we'll show you how to set up bank feeds.
Transactions created in Xero can be for Shopify orders, invoices, bills, etc. As with statement lines, transactions can be imported automatically or manually. We'll be showing you how to sync payment data automatically through our free Shopify to Xero integration. However, transactions unrelated to Shopify will have to be entered manually or through other integrations.
Step 1: Set up bank feeds in Xero
Before we start, you need to make sure you're registered for online banking so that you can connect your bank to Xero. Then, in the Accounting menu, click Bank accounts and click Add Bank Account. From there, follow the prompts to log in and to select the right accounts to share with Xero.
When starting, you'll have the option to import up to 12 months of historical transactions. This is helpful if you haven't been doing bank reconciliations. After everything is set up, transactions will automatically flow into your Xero account every business day.
Step 2: Set up your Shopify to Xero integration
Next, you'll want to set up your Shopify + Xero integration. First, register for an Amaka account and click New integration. You'll then have the option to select Shopify + Xero and will be guided through the Shopify login and Xero login processes. From there, you'll be able to choose your preferred setup method, invoice breakdown, invoice format, mapping and schedule.
Our Shopify + Xero integration has three setup methods. The first, Express, automatically maps payments from Shopify into default accounts. Advanced setup allows you to choose your own custom mapping, recommended for accounting professionals. Guided setup allows you to book a free 30-minute call with an expert who can help you through the process.
After the setup process is complete, all your Shopify payments data will automatically be synced to an invoice in Xero every day. Similarly to bank feeds in Xero, you can back sync your historical Shopify data. Note that if you're looking to reconcile transactions unrelated to Shopify, you'll need to add those in separately.
Step 3: Reconcile your Shopify payments in Xero!
The Shopify + Xero integration from Amaka makes it extremely easy by matching up payment transactions for you automatically. This includes Shopify Payments, cash, cash on delivery, gift cards and exchange credit. Go to the Reconcile tab in Xero and click the OK button to confirm transactions have been matched correctly.
What if you're using payment providers outside of those mentioned above? No worries! You can still reconcile these transactions. If you're hoping to make the process more efficient, you can set up bank rules that can automatically match up these payments to statement lines. You can read more about setting up bank rules in Xero or talk to one of our experts if you need guidance.
Starting at USD 33/month
Let us
reconcile

your books!

Our Integration Specialists can also take care of reconciling your books.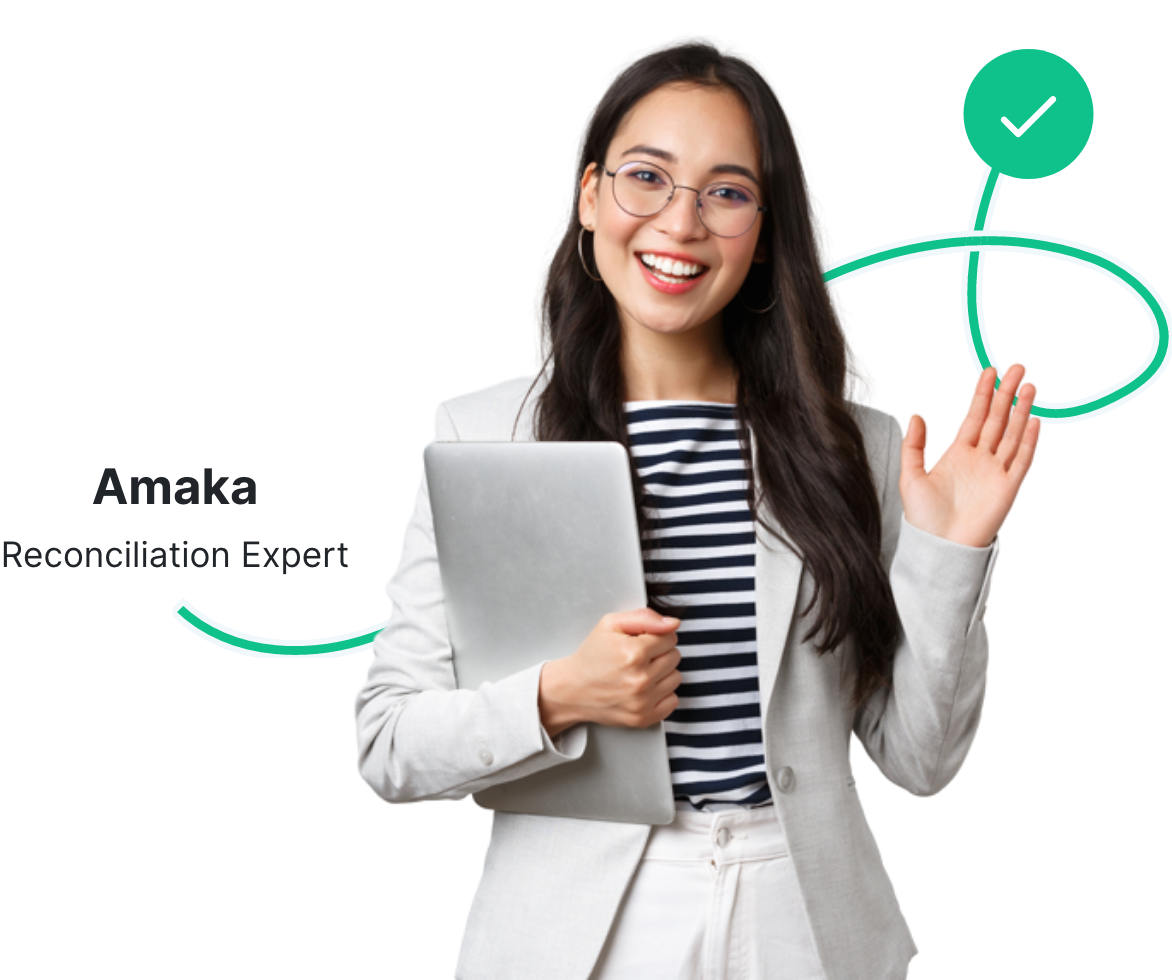 Key takeaways on bank reconciliation with Shopify and Xero
The sound of 'bank reconciliation' can sound a bit daunting at first. Fortunately, once you have the right systems set up, the process becomes significantly easier. After setting up bank feeds and connecting your Shopify store to Xero, reconciling payments becomes as easy as clicking OK to confirm statement lines and transactions match.
There's no need to spend hours upon hours every month on this manual task. Your time is better spent on less tedious tasks. What's more, if you were considering hiring an accounting professional, you could save hundreds of dollars. Instead, you can connect with an accounting professional who can look at your books and provide insights that boost business growth.
Shopify accounting
eBook
Learn how to automate your Shopify accounting and spend less than an hour on your books every month.